Harvest From The InnoTrans 2018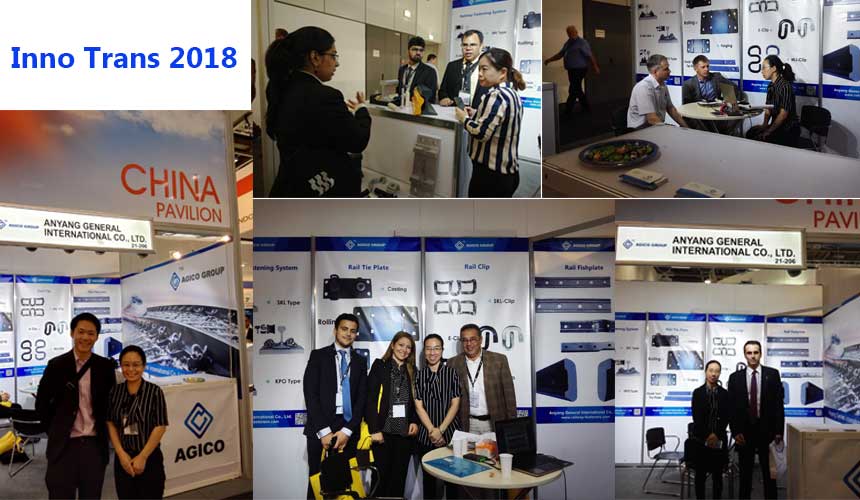 On Sept 18 to 21 of 2018, AGICO Rail attended the Innotrans 2018 with our high-quality railway fasteners, including rail track, rail joint bar, railway fastening system, railroad tie plate, railroad spike, rail clips, rail bolts and nuts, rail pad, and etc. in the fair, we sent away a lot of product leaflets to help conduct propaganda and show our powerful status in field of railway accessory production.
During the fair, we warmly accepted dozens of visitors around the world, including South Africa, Chile, Philippines, Germany, France, US, Russia, UK, Turkey, Thailand, Malaysia, Indonesia, Iran, Brazil, Uruguay, Sri Lanka, Pakistan, etc. have now been positioned as our valued clients because of their strong cooperation intention. For example, clients from Germany expressed their needs for rail track and rail fastening system, all of reasonable demand is considerable. In the following days, we will contact with them and approach to further discuss specific cooperation matters.
AGICO Rail always believes that respect is the basement of cooperation and development. We sincerely received every client and introduced our company to them during exhibition. We also care about any needs of visitors and made relevant records of engineering project, track type, product drawing and so on. At the same time, we believe strongly that Face-to-face communication is useful to establish fine cooperation and mutual-trust relations. The strength of AGICO Rail win unanimous recognition from visitors.
All in all, Inno Trans 2018 helps AGICO Rail maintains partnerships with old clients and establish friendship with new clients, broaden our market. There is no doubt that we will have a brighter future and great development!