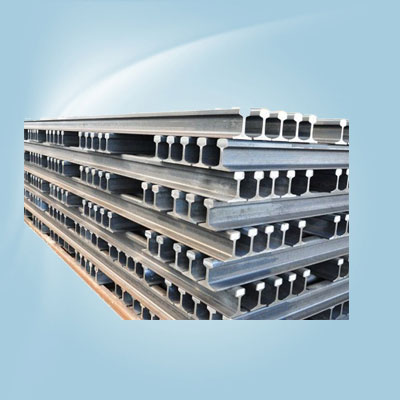 railroad track for sale
Size: UIC54, UIC60,115RE, 136RE,75A, 75R, 60A, QU120,QU100,QU80,QU70
Standard: GB, DIN, UIC, AREMA/ASTM, BS, JIS etc
Surface: plain or as customer requirement
Packing: according to requirements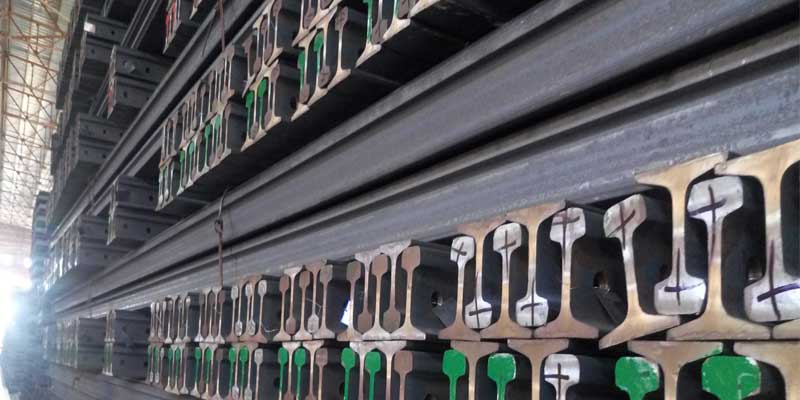 About railroad rail
Rail track
, also called
railroad rail
,
railroad track, steel rail
and so on, is widely used in the railway track system. Together with the cooperation with the railroad switch, it can make trains running without turning to the other directions. In general, rail track is consist of two parallel steel tracks and lays steadily on the railway sleepers. With the development of railway industry, the steel is widely used in the industry. Compared with other materials, the steel have a larger tolerance to bear more weight. The steel track can disperse the weight of the steel tracks and keep the stability of the railway transportation. The stones under the steel tracks can supply a elasticity to the railroad tracks. During the common life, the steel tracks can lay on the base made of concrete and even can be embedded into concrete.
Types of rail track
Chinese standard
1.
Crane rail
:
QU120,QU100,QU80,QU70
. They are most consist of manganese steel.
2.Heavy rail: the 38kg、43kg、50kg standard are widely used. Besides, as to some lines with high speed and vast capacity, they all use the 60kg rail tracks.
3.Light rail: light rail can also classified into two types, GB (China national standards) of 9kg、12kg、15kg、22kg、30kg/m and YB (Metallurgy Department Standard) of 8、18、24kg/m and so on.
Abroad
Among the rail track market in the world, there are many typical types. For example, the BS series (such as
90A, 80A, 75A, 75R, 60A
and so on) of British, the DIN series of Germany, the ASCE series of America(such as
115RE, 136RE
), the JIS series of Japan and the UIC series of International Union of Railways(such as
UIC54, UIC60)
.
See more in the document: International Standard Specification for Steel Track
.
AGICO Rail can supply railroad tracks of
BS, UIC, AREMA, JIS
and other international standards. Based on rich experience and strong technology support, our products has been exported to many countries and regions,
Learn our projects here
. Our rail tracks has advantages as following:
Customization service as you need.
European Standards and CE Marking
Five years warrenty.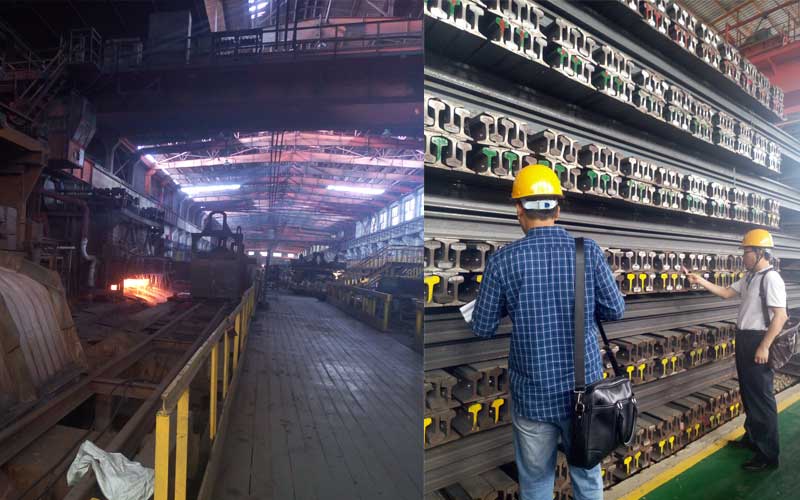 If you have any need,
welcome to contact us.
Hot-sale railraod track of AGICO Rail
Standard
Sepc.
Material Typical Grade
UIC860
UIC54
700,900A,900B
UIC60
EN13674.1
50E1
R200,R350HT,R260Mn,R35LHT,R320Cr,R370CrHT
54E1
60E1
60E2
BS-11-1985
BS80A
700,900A,900B
BS90A
BS100A
AREMA
115RE
SS,HH,LA,IH
136RE
ASCE60
U71Mn
ASCE85
U71Mn
GB 2585-2007
50kg/m
U71Mn
U75V
60kg/m
75kg/m
TB/T2344-2012
50kg/m
U71Mn,U75V,U77MnCr
U78CrV
60kg/m
75kg/m
GB 11264-1989
8kg/m
Q235
12kg/m
Q235
15kg/m
55Q, Q235
18kg/m
55Q, Q235
22kg/m
55Q, Q235
24kg/m
55Q, Q235
30kg/m
55Q, Q235
38kg/m
50Mn, U71Mn
43kg/m
50Mn, U71Mn
GB Crane rails
QU70
U71Mn
QU80
U71Mn
QU100
U71Mn
QU120
U71Mn
Specifications of typical rail tracks
In order to meet the different requirements of railway system, the rail tracks can divided into many types, such as GB standard, BS standard, AREMA standard, UIC standard, JIS standard, Australian standard, etc.
GB Rail
According to the GB standard railway track weight, the 43kg, 50kg and 60kg are widely used in the railway transportation.
43kg/m rail track size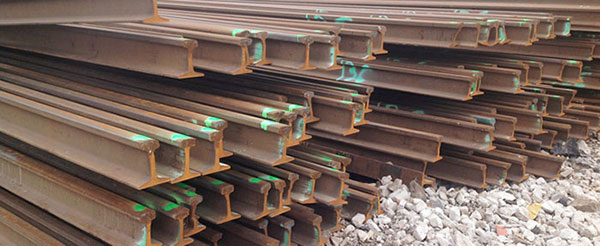 project
43kg/m rail steel
Height of steel rail
±0.8
Width of railhead
±0.5
Rail on cross section
Joint plate mounting surface slope
+1.0
-0.5
Joint plate mounting surface height
±0.6
The thickness of the rail waist
+1.0
-0.5
Rail bottom width
+1.0
-2.0
Rail bottom edge thickness
Rail bottom concave
Section slope (vertical, horizontal direction)
<=1.0
Section of asymmetric
±1.5
Length (temperature of 20 degrees)
project
number

unit
weight of per meter
44.563
kg
sectional area
57
cm²
the distance between center of gravity and rail base
6.9
cm
moment of inertia on horizontal axis
1489
cm4
moment of inertia on vertical axis
260
the lower section coefficient
217.3
cm3
the upper section coefficient
208.3
the bottom section coefficient
Left45.0 right 45.0
metal distribution
railhead
42.83
%
rail web
21.31
rail base
35.86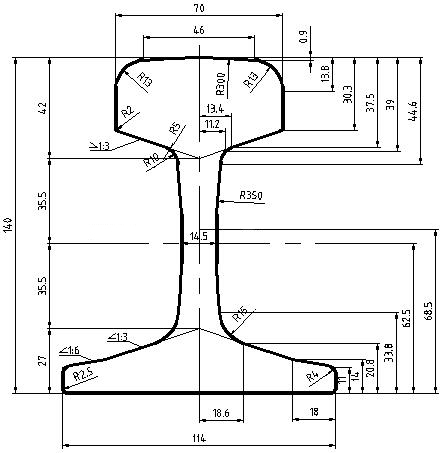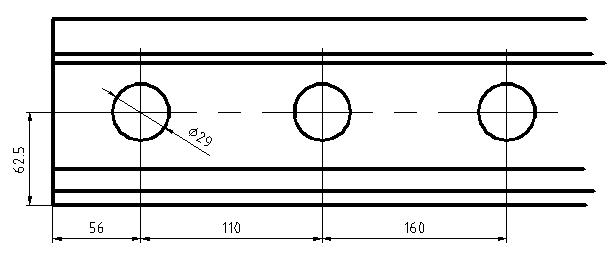 50kg/m rail track size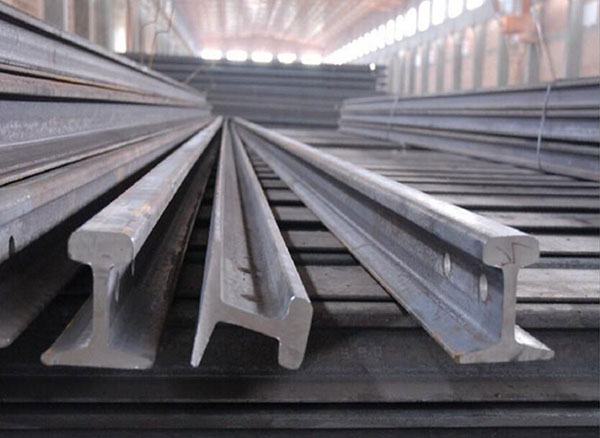 project
50-75/m
Height of steel rail
±0.6
Width of railhead
±0.5
Rail on cross section
Joint plate mounting surface slope
+1.0
-0.5
Joint plate mounting surface height
+0.6
-0.5
The thickness of the rail waist
+1.0
-0.5
Rail bottom width
+1.0
-1.5
Rail bottom edge thickness
+0.75
-0.5
Rail bottom concave
Section slope (vertical, horizontal direction)
<=0.8
Section of asymmetric
±1.2
Length (temperature of 20 degrees)
project
number

unit
weight of per meter
51.514
kg
sectional area
65.8
cm²
the distance between center of gravity and rail base
7.1
cm
moment of inertia on horizontal axis
2037
cm4
moment of inertia on vertical axis
377
the lower section coefficient
287.2
cm3
the upper section coefficient
251.3
the bottom section coefficient
left&right 57.1
metal distribution
railhead
38.68
%
rail web
23.77
rail base
37.55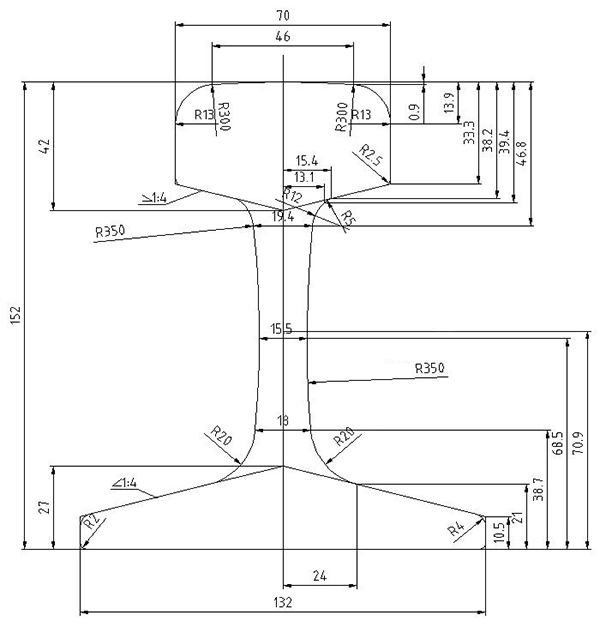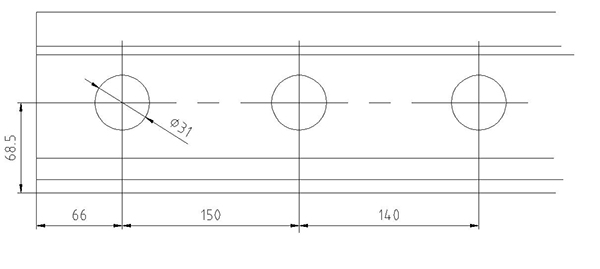 60kg/m rail track size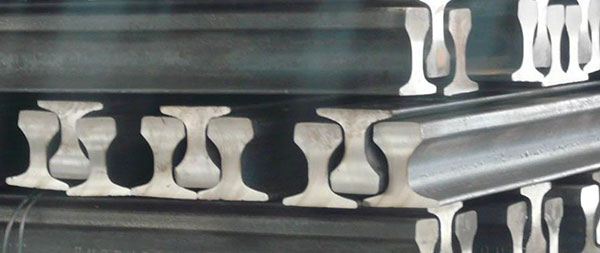 project

60kg/m rail steel
250km/h
350km/h
Height of steel rail
±0.6
Width of railhead
±0.5
Rail on cross section
±0.6
+0.6
-0.3
Joint plate mounting surface slope
+1.0
-0.5
±3.5
Joint plate mounting surface height
+0.6
-0.5
The thickness of the rail waist
+1.0
-0.5
Rail bottom width
±1.0
Rail bottom edge thickness
+0.75
-0.5
Rail bottom concave
<=0.3
Section slope (vertical, horizontal direction)
<=0.6
Section of asymmetric
±1.2
Length (temperature of 20 degrees)
±3.0
project
number

unit
weight of per meter
60.643
kg
sectional area
77.45
cm²
the distance between center of gravity and rail base
8.12
cm
moment of inertia on horizontal axis
3217
cm4
moment of inertia on vertical axis
524
the lower section coefficient
396
cm3
the upper section coefficient
339.4
the bottom section coefficient
left69.9 right69.9
metal distribution
railhead
37.47
%
rail web
25.29
rail base
37.24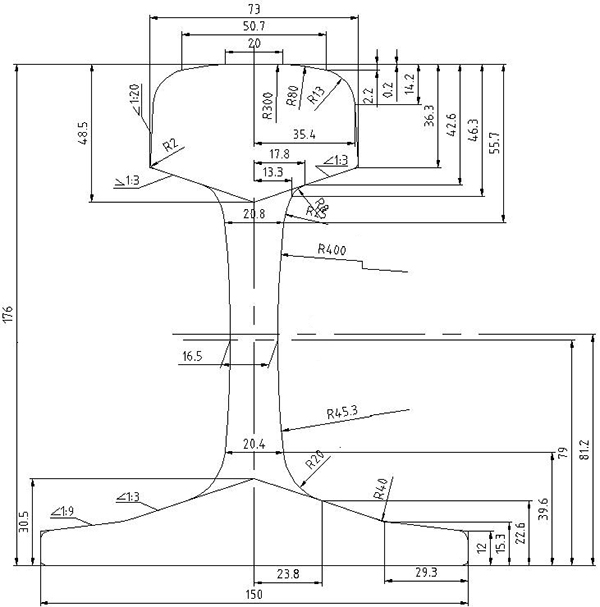 AREMA standard rail track
Standard: ASTMA1, AREMA
Size
Dimension(mm)
Weight
(kg/m)
Material
Length (m)
Head(mm)
Height(mm)
Bottom(mm)
Web(mm)
ASCE 25
38.1
69.85
69.85
7.54
12.4
700
6-12
ASCE 30
42.86
79.38
79.38
8.33
14.88
700
6-12
ASCE 40
47.62
88.9
88.9
9.92
19.84
700
6-12
ASCE 60
60.32
107.95
107.95
12.3
29.76
700
6-12
ASCE 75
62.71
122.24
122.24
13.49
37.2
900A/1100
12-25
ASCE 85
65.09
131.76
131.76
14.29
42.17
900A/1100
12-25
90RA
65.09
142.88
130.18
14.29
44.65
900A/1100
12-25
115RE
69.06
168.28
139.7
15.88
56.9
900A/1100
12-25
136RE
74.61
185.74
152.4
17.46
67.41
900A/1100
12-25
175LBs
109.86
152.4
152.4
38.1
86.8
900A/1100
12-25
BS standard rail track
Standard: BS11: 1985
Size
Dimension(mm)
Weight
(kg/m)
Material
Length (m)
Head(mm)
Height(mm)
Bottom(mm)
Web(mm)
50 O
52.39
100.01
100.01
10.32
24.833
700
6-18
60 A
57.15
114.3
109.54
11.11
30.618
900A
6-18
75 A
61.91
128.59
114.3
12.7
37.455
900A
8-25
75 R
61.91
128.59
122.24
13.1
37.041
900A
8-25
80 A
63.5
133.35
117.47
13.1
39.761
900A
8-25
80 R
63.5
133.35
127
13.49
39.674
900A
8-25
90 A
66.67
142.88
127
13.89
45.099
900A
8-25
100 A
69.85
152.4
133.35
15.08
50.182
900A
8-25
113 A
69.85
158.75
139.7
20
56.398
900A
8-25
UIC standard rail track
Standard: UIC860
Size
Dimension(mm)
Weight
(kg/m)
Material
Length (m)
Head(mm)
Height(mm)
Bottom(mm)
Web(mm)
UIC50
70
152
125
15
50.46
900A/1100
12-25
UIC54
70
159
140
16
54.43
900A/1100
12-25
UIC60
74.3
172
150
16.5
60.21
900A/1100
12-25
JIS standard rail track
Standard: JIS E1103-91/JISE 1101-93
Size
Dimension(mm)
Weight
(kg/m)
Material
Length (m)
Head(mm)
Height(mm)
Bottom(mm)
Web(mm)
JIS 15KG
42.86
79.37
79.37
8.33
15.2
JIS E standard
9-10
JIS 22KG
50.8
93.66
93.66
10.72
22.3
9-10
JIS 30KG
60.33
107.95
107.95
12.3
30.1
9-10
JIS 37A
62.71
122.24
122.24
13.49
37.2
10-25
JIS 50N
65
153
127
15
50.4
10-25
CR 73
100
135
140
32
73.3
10-12
CR 100
120
150
155
39
100.2
10-12

DIN standard rail track
Standard: DIN536
Size
Dimension(mm)
Weight
(kg/m)
Material
Length (m)
Head(mm)
Height(mm)
Bottom(mm)
Web(mm)
A55
55
65
150
31
31.8
900A
10-12
A65
65
75
175
38
43.1
900A
10-12
A75
75
85
200
45
56.2
900A
10-12
A100
100
95
200
60
74.3
900A
10-12
A120
120
105
220
72
100
900A
10-12
ISCR standard rail track
Indian Standard Railway
standard:IS3443-1980
Size
Dimension
Weight (kg/m)
Length
(m)
Material
Head(mm)
Height(mm)
Bottom(mm)
Web(mm)
ISCR50
51.2
90
90
20
29.8
9-12

U71Mn

ISCR60
61.3
105
105
24
40
9-12
ISCR70
70
120
120
28
52.8
9-12
ISCR80
81.7
130
130
32
64.2
9-12
ISCR100
101.9
150
150
38
89
9-12
ISCR120
122
170
170
44
118
9-1

Australian standard rail track
Australian Standard Railway

standard:AS1085

Size
Dimension
Weight (kg/m)
Length
(m)
Material
Head(mm)
Height(mm)
Bottom(mm)
Web(mm)
31KG
63.5
117.5
108
11.5
31.5
8-25
900A/1100
47KG
70
141.3
127
14.3
46.5
50KG
70
154
127
15
50.8
60KG
70
170
146
16.5
61
68KG
73.4
186
152
17.5
67.6
73KG
70
157
146
32
73.63
86KG
102
102
155
84.11
85.5
89KG
102
114
178
51
89.81
South African standard rail track
South African Standard Railway

standard:ISCOR

Size
Dimension
Weight (kg/m)
Length
(m)
Material
Head(mm)
Height(mm)
Bottom(mm)
Web(mm)
15KG
41.28
76.2
76.2
7.54
14.905
9

700

22KG
50.01
95.25
95.25
9.92
22.542
9
30KG
57.15
109.54
109.54
11.5
30.25
9
40KG
63.5
127
127
14
40.31
9-25

900A

48KG
68
150
127
14
47.6
9-25
57KG
71.2
165
140
16
57.4
9-25

EN standard rail track
Standard: EN 13674-1-2003
Size
Dimension(mm)
Weight
(kg/m)
Material
Length (m)
Head(mm)
Height(mm)
Bottom(mm)
Web(mm)
49 E1
67
149
125
14
49.39
R260/R350HT
12-25
49 E2
67
148
125
14
49.1
R260/R350HT
12-25
50 E1
65
153
134
15.5
50.37
R260/R350HT
12-25
50 E2
72
151
140
15
49.97
R260/R350HT
12-25
50 E4
70
152
125
15
50.46
R260/R350HT
12-25
50 E5
67
148
135
14
49.9
R260/R350HT
12-25
50 E6
65
153
140
15.5
50.9
R260/R350HT
12-25
54 E1
70
159
140
16
54.77
R260/R350HT
12-25
54 E2
67.01
161
125
16
53.82
R260/R350HT
12-25
54 E3
67
154
125
16
54.57
R260/R350HT
12-25
55 E1
62
155
134
19
56.03
R260/R350HT
12-25
60 E1
72
172
150
16.5
60.21
R260/R350HT
12-25

Grooved rail track
| | | | | | | | | |
| --- | --- | --- | --- | --- | --- | --- | --- | --- |
| Size | Height (mm) | Bottom (mm) | Head A (mm) | Head B(mm) | Channel A (mm) | Channel B (mm) | Web (mm) | Weight (kg/m) |
| 59R1 | 180 | 180 | 113 | 56 | 42 | 15 | 12 | 58.97 |
| 59R2 | 180 | 180 | 113 | 55.83 | 42.52 | 14.65 | 12 | 58.14 |
| 60R1 | 180 | 180 | 113 | 56 | 36 | 21 | 12 | 60.59 |
| 60R2 | 180 | 180 | 113 | 55.83 | 36.34 | 20.83 | 12 | 59.75 |