Composite sleeper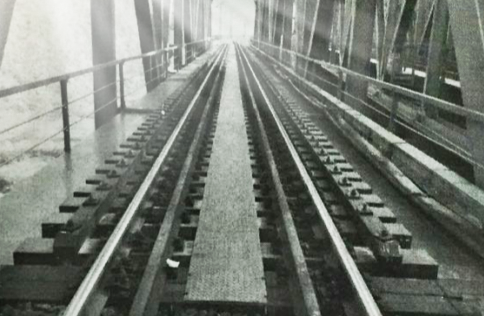 The composite sleeper, or synthetic sleeper is composed of continuous glass fiber reinforced polyurethane foam material. It has the characteristics of glass fiber reinforced plastic composite material and foam material. composite railroad tie has the advantages of natural wood and plastic. For example, it has higher strength, higher specific modulus and can be used as structural material. It is light in weight, heat-insulating, chemical-resistant, insulating, and resistant to aging, similar wood properties, such as nailing and riveting. In general, composite sleeper is mainly used in high-speed railways and subways (such as ballasts, Bridge tops, platforms, etc.) ,especially where the use of concrete sleepers is limited.
Composite sleeper features
The installation on site is simple, and the maintenance and repair works are greatly reduced.。
It can keep the distance between the rail and the guard rail, the sleeper and the guard and the geometry of the line well, and the line condition is excellent and basically unchanged.
The sleeper surface is not easily peeled off.
Sizes available: sleeper height not less than 140mm, width not less than 200mm, and length upon customer need.
Product quality standard: CJ/T399-2012
Composite sleeper material strength
Item
JIS E1203:2007 Strength
(CJ/T399-2012)
AGICO Sleeper Strength
Material Strength
Bending Strength
min. 70 N/mm2
min. 80 N/mm2
Young 's modulus in flexure
min. 6000 N/mm2
min. 7000 N/mm2
Withstand bending load
min. 170 kN
min. 170 kN
Longitudinal compressive strength
min. 40 N/mm2
min. 50 N/mm2
Shearing strength
min. 7 N/mm2
min. 7 N/mm2
Adhesion shearing strength
min. 7 N/mm2 (base-material breakage)
min. 7 N/mm2 (base-material breakage)
Electrical Properties
Alternating-current breakdown voltage
min. 20 kV
min. 20 kV
Direct-current insulation resistance
min. 1 X 1010 Ω
min. 1 X 1010 Ω
Pulling Strength
Track spike pulling strength
min. 15 kN
min. 20 kN
Screw spike pulling strength
min. 30 kN
min. 40 kN
Unit volume mass
0.74土 0.1 g/cm3
0.74土 0.1 g/cm3
Amount of water absorption
max. 10 mg/cm2
max. 10 mg/cm2

Composite sleeper production process
1. Raw materials
Main raw and auxiliary materials: continuous glass fiber, polyether polyol, isocyanate and related components
2. Facilities
1) Yarn system (creel, collection plate, traction head)
2) Polyurethane foam feeding system (batch tank, foaming machine, sweeping frame, swing frame and chiller)
3) Material unwinding system (unwinding frame, heating platform and structure)
4) Rolling mold system
5) Rear conveying system (conveying platform and cutting machine)
6) Impregnation Facility
7) Adhesive equipment
8) Surface coating equipment
9) Inspection equipment
3. Production process
The composite sleeper is made of long glass fiber as the reinforcing material, with polyurethane resin as base material to be foamed, solidified and synthesized. At the beginning, two kinds of liquid polyurethane raw materials of A and B are sent to mix by the metering pump in certain ratio at the head facility, then uniformly poured onto the glass fiber surface, and after being evenly kneaded, it is then foamed, solidified and formed into a rolling mold, and finally the synthetic product is automatically tracked and cut at the production line. The semi-finished product is cut into a certain length as needed, and then grinded, compounded, coated or sprayed to become a finished product.
Woking shop of composite railroad tie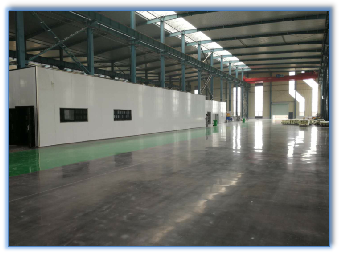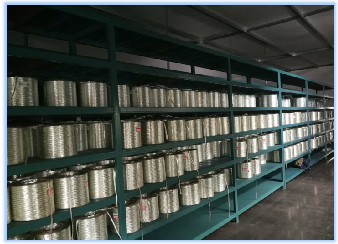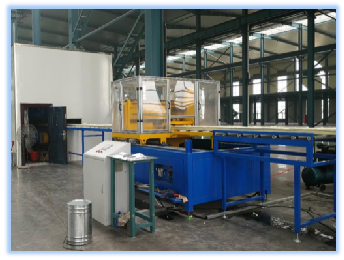 Certificate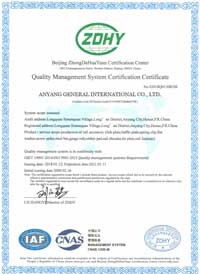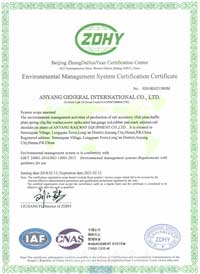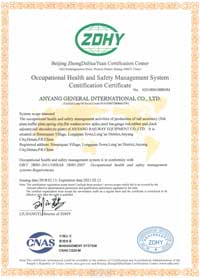 Anyang General International Co., Ltd. Is a most competitive railway and accessory producer and supplier in China. It has 18 professional production lines, more than 1,000 types of equipments and 11 production workshops. The company is mainly engaged in the production of railway related parts, and has many years of production experience and strong technical research and development team strength. At present, our company can produce and develop various fastener products, including the product for railway, high-speed rail, city railway, tram and subway and so on.
Our company insists on "scientific and technological innovation, quality first, excellence, honesty and trustworthiness" as our consistent policy, giving full play to the advantages of talents, perfect quality management system, perfect testing, measurement and testing methods, analyzing products, Inspection, testing, and ready to provide reliable products.