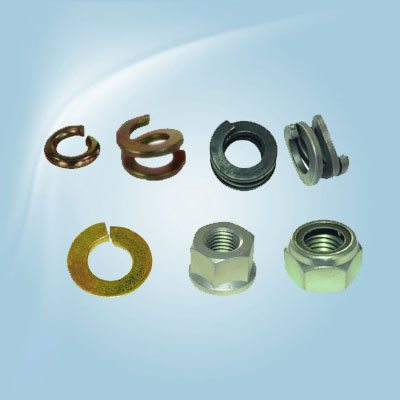 other rail fasteners
Size: all types
Standard: GB, DIN, UIC, AREMA/ASTM, BS, JIS etc
Surface: according to client
Packing: upon customers
As a comprehensive railway track material producers, we can also supply other rail fasteners such as gauge tie rod, railway turnouts, hook twin tie plates, American bolts, spring washers, flat washers, rail nuts and other products according to clients' requirements or drawings.
1. Gauge tie rod
We produce various kinds of gauge tie rods, such as AREMA 1-1/4 "insulated gauge tie rod, and other gauge rod used in UIC, BS rails, with length of 600mm,762mm,900mm,1435mm, etc.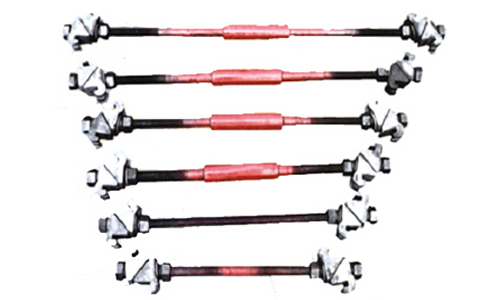 2. Railway turnouts
Types of Railway turnouts : simple turnout, lateral turnout, left hand turnout, right hand turnout, bilateral turnout, symmetrical turnout, symmetrical double curve turnout, symmetrical double turnout, symmetrical three throw turnout, three-way turnout, two-sided double turnout, just to name a few. We can produce others according to the users' specification requirements.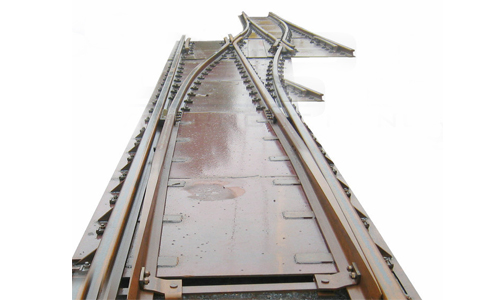 The specifications of railway turnouts:608, 612, 615, 715, 915, 618, 718, 918, 622, 722, 922, 624, 724, 924, 630, 730, 930, 938, 643 and other non-standard ones.

3. Hook twin tie plates
Except for ribbed tie plates, we also supply various hook twin tie plate, in casting iron or casting steel.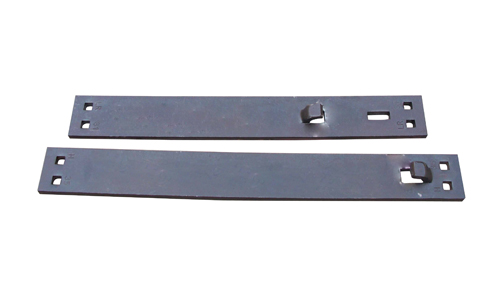 | | | | | | |
| --- | --- | --- | --- | --- | --- |
| Type | Dimension | Holes) | Incline | Rail | Weight(Kg) |
| Rph 1/160 | 345/285/127/160x15/13 | Ø26 (4x) | 1:40 | S 49/S 54 | 7,86 |
| Rp 01/01/160 | 345/285/127/160x15/13 | Ø26 (4x) | 1:40 | S 49/S 54 | 7,70 |
| Rph 1/210 | 345/285/127/160x15/13 | Ø26 (4x) | 1:40 | S 49/S 54 | 10,55 |
| Rph 1/210 | 345/285/127/160x15/13 | Ø36,3 (2x) | 1:40 | S 49/S 54 | 10,55 |
| Rph 1/210 FVZ | 345/285/127/160x15/13 | Ø26 (4x) | 1:40 | S 49/S 54 | 10,69 |
| Sph 1(a) | 345/350/127x410x15/13 | Ø26 (8x) | 1:40 | UIC 60 | 20,60 |
| Rph 6/160 | 370/310/152x160x15/13 | Ø26 (4x) | 1:40 | UIC 60 | 8,44 |
| Rph 6/210 | 370/310/152x210x15/13 | Ø26 (4x) | 1:40 | UIC 60 | 11,32 |
| SZ 60 | 370/350/152x420x15/13 | Ø26 (8x) | 1:40 | UIC 60 | 22,73 |
| Rph 11 Ü | 664/554x160 | Ø26 (4x) | 1:40 | S 54 | 15,37 |
| Rph 13 Ü | 690/570x160 | Ø26 (4x) | 1:40 | UIC 60 | 15,27 |
| Rpo 5 | 345/285/127x160x15/13 | Ø26 (4x) | 1:20 | S 49/S 54 | 8 |
4. American bolt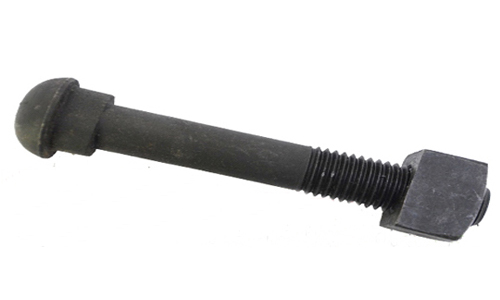 American bolt

Button head oval neck track bolt

Diamond neck track bolts
Or the type by customers' drawings
Grade
4.6
5.6
8.8
Material
Q235
35#
45#
Mechanical properties
Tensile strength: ≥400Mpa
Tensile strength:≥500Mpa
Tensile strength:≥800Mpa
Yield strength:≥240Mpa
Yield strength:≥300Mpa
Yield strength:≥640Mpa
Elongation:≥22%
Elongation:≥20%
Elongation:≥12%
Cold bending: 90 degree without crack
Cold bending: 90 degree without crack

Cold bending: 90 degree without crack

Surface
plain (oiled), Oxide black, Zinc, HDG, Wax, Bitumen, Dacromet, Sherardizing, etc.
Standard refers
UIC864-2
5. Flat washer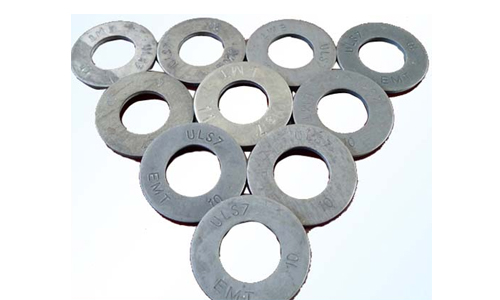 Type: Uls6, Uls7
Lock washer
Type: WL20, WL24, Wl22
Raw material: 65Mn, 60Si2Mn, 70#
Surface: Black, zinc, HDG…
6. Spring washer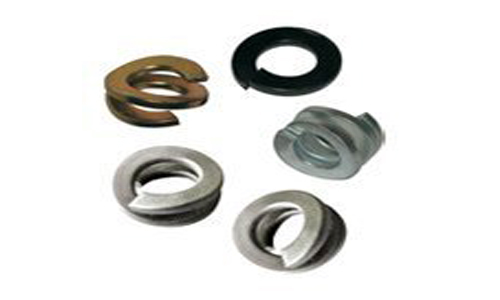 Type: Fe6
Raw material: 60Si2Mn
Spring steel bars Fe6
Hardness: 42-50
7. Rail Nuts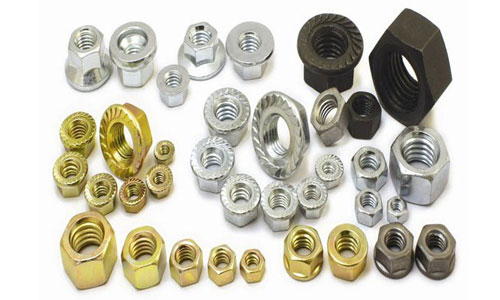 Type: Hex head, Square head, Flange head
Standard: DIN, BS, AREMA
Size: above M16
Raw material: Q235. 35# 45# 40Mn2, 20MnSi, 35CrMo, 40 Cr. 42CrMo
Grade: 4.5, 6, 8, 9, 10, 12
Surface: plain, black, zinc, HDG…