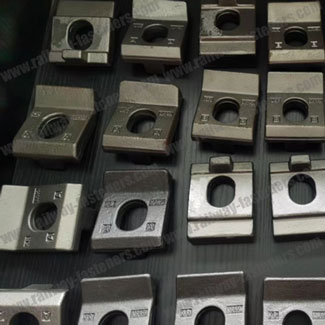 K type rail clip for Africa
Size: full rail clip dimension available
Standard:As per customers
Surface:plain (oiled), black oxide, color painting, zinc plating
Packing:Woven Bag/Kegs and Pallet/wooden box or upon customers
K type clip or k type clamp is typical fastener used in Africa Railway Fastening, particularly for Rail BS80R, 90LB. The K clip, A clip, B clip, and T bolts and nuts whole set, as well as each individual spare component, could be produced by AGICO Rail.
PARTIAL KENYA RAILWAY ITEMS
CLIP 'A'
0.52kg/pc
35# steel
CILP 'B'
0.56kg/pc
35# steel
LOCKING CLIP 'K'
0.78kg/pc
35# steel
I CLIP
0.37kg/pc
Q235
O CLIP
0.4kg/pc
Q235
LONG BOLT
0.33kg/pc
Grade 6.8/ or as request; Black surface
SHORT BOLT
0.3kg/pc
Grade 6.8/ or as request; Black surface
80R FISH PLATE
8.5kg/pc
45# steel
60R FISH PLATE
4.9kg/pc
45# steel
BOLT- 1" (Square Head and Hex Collar Nuts)
variation by length
Bolt Material:42CrMoA; Grade:12.9; Nut Material:40Cr; Grade 10; Surface: black
Parts of K-type rail clip fastening



Why choose us?
With extensive expertise in the railroad industry, AGICO is able to provide its customers with a wide selection of heavy-duty rail fastening clips of the highest quality and efficiency, which are used to secure rails to underlying tie plates. Premium grade spring steel is used to make the rail clips that AGICO manufactures, and it is obtained from a long-standing, reputable producer. After more than 20 years of producing rail elastic clips, AGICO has established itself as China's biggest and most competitive rail clip production base, making it eligible to bid on large and medium-sized national rail projects for the China Ministry of Railways, both at home and abroad.


Our certifications
Our cases