What Do You Know About Rail Pad?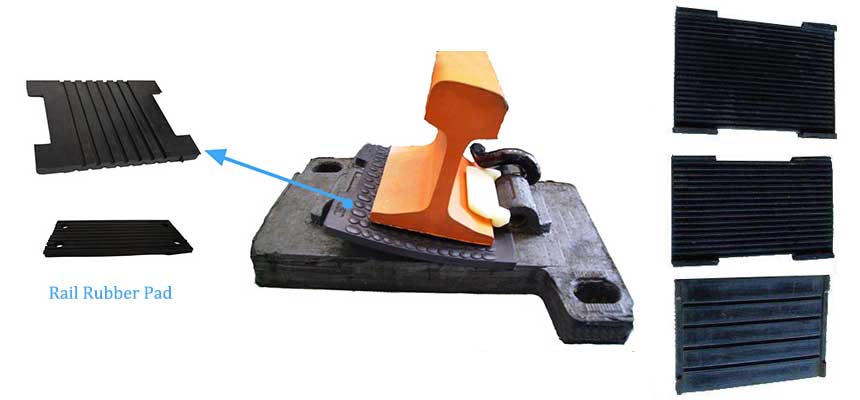 Rail pad, also known as rail rubber pad, is a necessary part of railway track fasteners. Generally, rail pad is installed between steel rail and concrete railway sleeper. The rail pad is mainly used to reduce the high speed vibration and impact produced by the vehicle during running. Rail pad protect the rail base and railway sleepers, electrically insulating the signal system. Because long-term explosion in the sir, the rail rubber pad is usually required to have properties of ageing resistant, cold-resistant, heat-resisting. The rail pad for subway also requires good damping performance and low noise.
AGICO Rail is a professional railway fasteners manufacturer from China. We can provide different standards rail pad, steel rail, rail clips, railroad spike, screw spike, tie plate, rail bolt and nuts, railway fish plates and etc. based on rich experience and advanced technology, AGICO Rail helps you learn the rail pad fully.
AGICO Rail's rail pad
The rubber is used as the main raw material of rail pad, scientific formula and high-tech production line. Rubber pad meets the requirements of speed-up of railway and environmental protection, the application of rail pad also increase the transportation capability of vehicles. The production and promotion of rail rubber pad completely replace the old fasteners in the railway crossing, such as asphalt, stone, steel plates, change the state of backwardness, including uneven railroad, frequent accidents and maintenance. With the advantages of beautiful, fast installation, practical, security, rail rubber pad is widely applied to many railway lines.
AGICO Rail 's rail pad is characterized by resistant to pressure and abrasion, easy to install, firm contact with the road, no impact and noise, good safety with the special preparation of rubber and professional design developed by high and new technology, advanced technology and testing the quality of products reach the leading level of similar products in China.
Shock absorption, aging resistance, abrasion resistance, stability, high and low temperature resistance, the rail pad can be made of natural rubber, styrene-butadiene rubber, neoprene, HDPE, EVA, high-density polyethylene and other combinations, high elasticity, and hard to deformation or fracture in various temperatures.
Long service life, low cost of maintenance and replacement.
Complete models, suitable for 43KG, 50KG, 60KG and other kinds of steel rails, as well as wood sleepers, concrete sleepers and other kinds of railway sleeper laying.
Strong shock resistance, good insulation, wear-resisting, little compression deformation, high strength, aging resistance, no frost boiling, long service life, easy installation. The use of railway rubber pads can greatly improve the transport capacity of motor vehicles, reduce the number of road maintenance, and avoid the traffic accidents caused by the flout of motor vehicles. From the view of safety, economy, environmental protection and social benefits, it is worth popularizing and applying.
The service life of rubber pad is 3 times higher than the original paving panel. The test proves that the implementation pressure reaches 80 tons and above can be stabilized without deformation.
Why choose rail pad of AGICO Rail?
AGICO Rail's rubber pad production attaches great importance to quality control and management. Our rail rubber pads are mainly made from these materials including natural rubber, synthetic rubber, styrene-butadiene rubber, chloroprene rubber, composite rubber, EVA, plastic, plastic, HDPE, high-density polyethylene and other materials. All rail rubber pads are processed according to drawings or samples. The production is completely in accordance with the material iso9001-2008 quality system, we also obtain China's railway production license. We have a full set of testing equipment to ensure the quality of all our rubber pads meet customer requirements.
We are a railway fasteners manufacturer is certified by iso9001/2008. All processes are in accordance with the requirements of ISO quality management system. From quality control to finished products, we operate in accordance with standard procedures. We have strict quality control system for rail rubber pad:
For the inspection and testing of raw materials, we require the production batch number, chemical composition, mechanical properties and other testing indicators.
Our quality control inspectors take measures such as sample sampling, batch testing and providing raw material certificate.
According to different requirements of the products, we will make corresponding physical and chemical tests and inspections. If the results do not meet our requirements, we will refuse to export, only the standard material can be accepted.
You may also like: