Does your railway rubber pad reach the standard?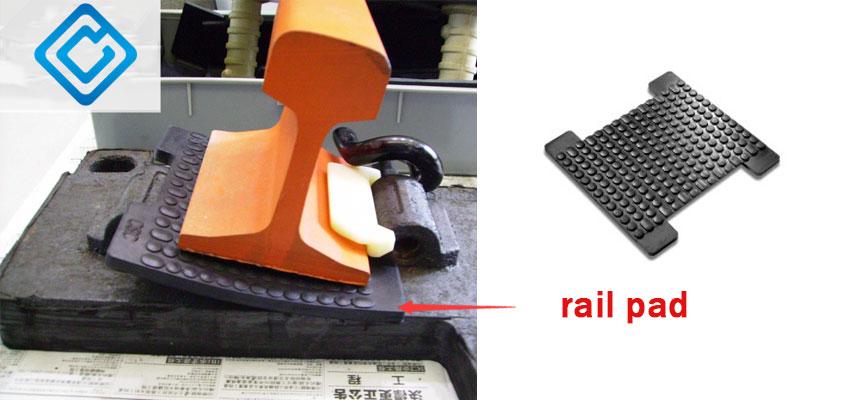 Railway rubber pad, also called rubber rail pad, rubber tie plate. It is an important part of railway structure system, which is a kind of rail pad. Railway rubber pad is installed between steel rail and sleeper. The function of the railway rubber pad is to protect the sleepers from impacting and crushing. Meanwhile, the railway rubber pad can make the electrical isolation of the signal system. Due to the railway rubber pad be exposed to the atmosphere all the time, it requires a good resistance to natural aging, cold, and heat resistance. Besides, the railway rubber pad should have good shock absorption and low noise performance.
Advantages of railway rubber pads
Rail pads are critical to the railway system. The stiffness of a rail pad is designed to not be high so that their relative deformation under the spring clip bottom loads is greatly substantial. This condition requires the rail pad have some amazing self-defensive ability.
Firstly, railway rubber pads have shock absorption, anti-aging and wear resistance. Besides, the railway rubber pads have stability and high resistance to high and low temperature. These characters guarantee the rail pad maintaining in contact with the sleepers whatever any vertical movements from the train.
Secondly, the usage cycle of the railway rubber pad is long-term and the maintenance cost is lower than others.
Thirdly, there are various models of railway rubber pads. Rail pads apply to 43kg, 50kg, 60kg and other standard steel rail, wood rail sleeper, concrete sleeper and other type's sleepers.
Railway rubber pads have many types which are made from different materials like HDPE, EVA, and rubber. These materials are elastic and can keep the original shape under different temperature.
The railway rubber pad is made from natural rubber, it has the unique character.
Except the advantages have mentioned, the railway rubber pad meets the requirement of the speed increase on the railway and environmental protection. Rubber rail pad can improve the transportation capability and reduce the number of crossing maintenance. Considering the safety and economic benefits, railway rubber pad is worth popularizing.

Inspection standards of railway rubber pad
Along with the market of railway rubber pad is growing, there are more and more requirements for railway rubber pad.
Material
The main material of railway rubber pad must be natural rubber or synthetic rubber, shall not use recycled rubber.
Appearance and quality
Railway rubber pads should have a smooth surface and neat edges.
Angle: at four positioning angles, not allowed to have more than one-third of the foot of the missing angle.
Glue: at two working surface, due to impurity bubbles, water, sulking, resulting in the lack of plastic area of ​​not more than 9mm2 and the depth of not more than 1mm, each rubber rail pad shall not have two parts.
Sponge: the four positioning feet do not allow the volume is greater than one-third of the sponge.
Burr: no more than 3mm.
Mechanical capacity
The railway rubber pad shall comply with the following table.
number
Technical Parameter
unit
Technical Requirement
1
shore sclera scope hardness
℃
72~82
2
Tensile strength
MPa
≥12.8
3
Elongation at break
﹪
≥260
4
200﹪tensile stress at a given elongation
MPa
≥9.5
5
EN Compression Set(100℃,24h)
﹪
≤30
6
Akron abrasion
Cm3/1.61km
≤0.6
7
Working resistance
Ω
≥106
8
Air aging test(100℃,72h)
Tensile strength
MPa
﹪
≥10
≥150
9
brittle temperature(H型)
℃
-50

The static stiffness of the railway rubber pad shall be in accordance with the following table.
Mode

Static stiffness value(kN/mm)

43—7—7
43—10—7
100~130
80~110
50—7—9
50—10—9
110~150
90~130
60—10—11
60—10—17
60—12—17
90~120
55~80
40~60


The railway rubber pad should reach requirements have mentioned at least. In term of these requirements, AGICO Rail provides high-quality railway rubber pad. There are technical Parameters about our rubber rail pad.
| | | |
| --- | --- | --- |
| Technical Parameter | Unit | Value |
| Stiffness | KN | 90-130 |
| Hardness Shore A | ℃ | 72-80 degree |
| Electronic Resistance | Ω | ≥ 106 |
| Tensile Strength before Aging | Mpa | ≥12.5 |
| Elongation before Aging | % | ≥250 |
According to these technical parameters, it finds that our railway rubber pad is certified product. On high-quality basis, we also provide different types of railway rubber pad.

| | |
| --- | --- |
| Material: | rubber |
| Standard: | TB/T2626-95 |
| Application: | 43kg/m ,50kg/m, 60kg/m, 75kg/m rail |
| Models: | 43-7-7, 43-10-7, 50-7-9, 50-10-9, 60-10-17, 60-12-17 |
| Operation temperature: | -50~70 degrees |
| Certificate: | ISO9001:2008 |
| Notes: | Should be stored in clean, ventilated place. Don't put under direct sunlight, and keep away from heat sources and chemical reagents. Don't touch oil, organic solvent and other chemicals. |
The rail pads can be customized with or without grooves, in various possible designs, depending on customers' requirements.
Besides railway rubber pad, AGICO Rail also provides rail pads that are made from other materials. We also supply other railway fasteners like
rail joint bar
,
elastic rail clip,
railroad spike and etc.
You may also like: