FAQ for railway fasteners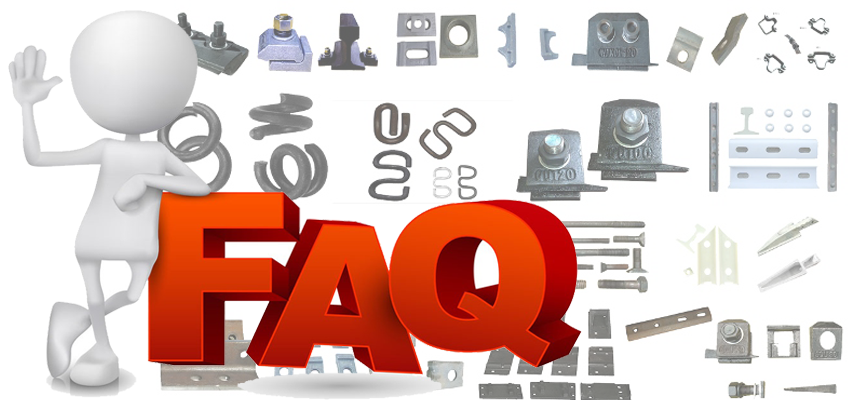 As a railway products manufacturer, AGICO Rail comes across numerous questions from our customers in the day-to-day operations. With rich experience, AGICO Rail find that the most of clients concern about the same things, such as price, warranty period, certifications, standard, related projects and other specifications of rail fasteners. For your convenient, we'll sum up the most frequently asked questions and try to answers them here.
About rail products
Q: what's your main range?
A: AGICO Rail supplies rail track, rail joint bar, rail clips, railroad spikes, railway sleeper, rail track bolts and nuts, rail pad, tie plate, railway clamp, rail anchor, rail shoulder, railway nylon insulator, railway switch, plastic dowel, and other related products.

Q: Are AREMA standard rail fasteners available?
A: Yes, we supply AREMA, BS, UIC, JIS, DIN, GB and other international standard railway fasteners as you need.

Q: Do you provide custom fasteners or not?
A: Yes, we can customize non-standard rail fasteners according to the samples or drawings.

Q: What's your hot-sale product?
A: Our hot-sale products include UIC 54, 60 rail track and related rail joint bar; 115RE, 136RE, 1342RE rail track and related joint bar; BS80A, 90A rail track and related railway fish plates; E-clip, SKL clips; dog spike, screw spike; e-clip fastening system, skl fastening system, fast-clip fastening system; rail tie plate, track bolts, crane rails, etc.
About quality
AGICO Rail takes quality of rail fasteners as first place, we have professional casting production line and related inspection equipment. As a trusted partner of CRCC (China Railway Construction Corporation), AGICO Rail's railway products in strict accordance with the ISO9000:2008 quality management system and is proudly recognized by China Railways Production Certification Center.
Q: Do you have any certifications?
A: We are ISO 9001:2008 and SGS certified.

Q: How to keep the quality of railway products?
A: To ensure the perfect product quality, a professional quality inspection team is formed by following strictly quality inspection principles and rules. Quality is guaranteed by entirely control measures through self-checking, special-checking, mutual-checking, sampling-inspection through the production process for the just product, from beginning to end. Besides that, all raw materials are required to be purchased from certified supplier at competitive price, and finished products from the production line also need to be inspected on special inspection instruments to get rid of any tiny imperfection and ensure 100% satisfying products for all users.
About service
As a leading manufacturer of railway fasteners in China, we can promise best service to every client.
Q: How long is the warranty of railway fasteners?
A: About 5 years.

Q: Do you provide free sample?
A: Yes, we can provide free sample if you need.
About project
Q: Do you have experience in large scale railway projects?
A: Yes, our railway fasteners have been exported to a number of countries worldwide, such as America, Canada, Russia, Australia, Japan, Argentina, Brazil, Portugal, Italy, Greece, Indonesia, Vietnam, Kenya, Zambia, Bangladesh, Uganda, South Africa, Chile, etc. You can learn more details at railway projects.

Q: Which types of fasteners have been exported?
A: AGICO Rail has exported rail joint bar, rail track, tie plate, railroad spike, rail fastening system, rail clamp, rail bolts and nuts, rail pad and etc.
In conclusion, that's the most frequently asked questions. Besides, we believe that you will have other concerns like price, exchange rate, shipping, and so on. Welcome to contact us if you have any questions about buying railroad fasteners, AGICO Rail will answer them one by one.

You may also like: