Railway sleeper, also called railroad tie, is one of the important rail components. It is usually used to keep the rail in the right place. What is railway sleepers made of? In generally, all material of railway sleeper includes wood, steel, concrete. The railway sleeper is traditionally made of wood. Beside the rail components, wooden railway sleeper also can be applied in many areas like building raised bed, wall, steps and etc. How to build raised bed with railway sleepers? Let's see the following steps .
Mark out the raised bed area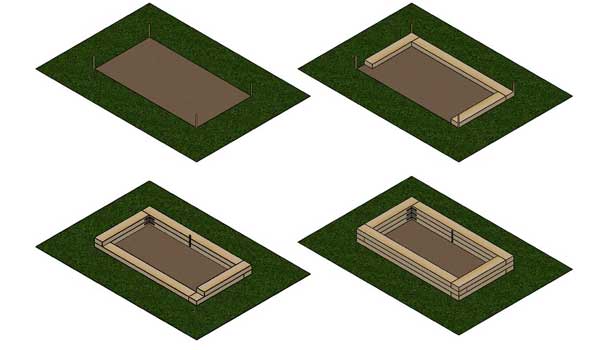 Before building the raised bed, the first thing is decide position and size of your raised bed.
The railway should better be laid on the flat ground. For many people often choose some places like earth, grass, deck or concrete, because they are easy to find. No matter where you choose, for the perspective of foundation, strong foundation is very important for whole raised bed.
Of course, you can build raised bed in any size. But usually you choose a suitable position according to these sizes of railway sleepers. One more thing, you should leave one or two sides to stand and take care of plants.
Choose railway sleepers for raised bed
As for the most important part of raised bed - railway sleeper, you should concern two aspects: material and size.
Material: there are wide ranges of wooden railway sleeper to choose like softwood and hardwood sleeper, most of them can be applied in the raised bed, such as pine, oak, jarrah railway sleeper. Only creosote treated railway sleeper is not advisable to build raised bed. Because turpentine will be melted in hot day, which dirty skin, pets, clothes, etc.
Size: Generally, the reclaimed sleepers have some standards, such as 2600mm x 250mm x 125mm, 2400 x 200mm x 120mm, 1200mm x 200mm x120mm.
Install the railway sleeper
After choosing the place for raised bed, the next thing is build it step by step.
Firstly, cut the railway sleeper to sizes you need. Suggested method is cut the ends of railway sleeper to overlap at the corners.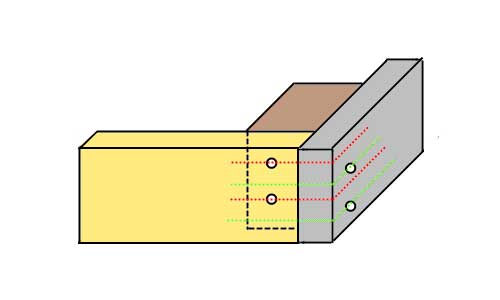 Laying sleeper on the ground in a shape of square (rectangle is also ok). The angle between two railway sleepers should be 90 degree. For solidity, bury half of sleeper in the ground (except concrete floor).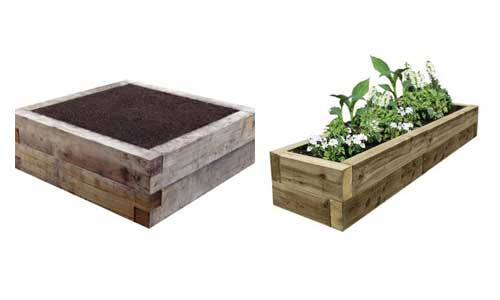 Laying sleepers on the desired height, in general, 2-3 railway sleepers are advised. For width of raised bed, no more than 4 feet.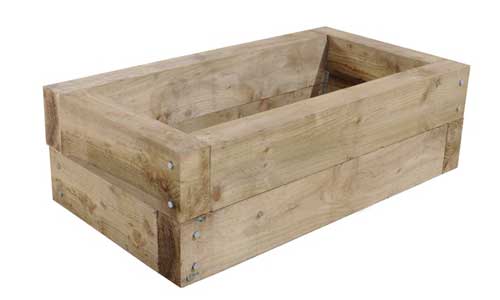 Drill holes in the railway sleeper, and then fasten all of them with sleeper screw spikes. (the detail size according to the railway sleeper you choose)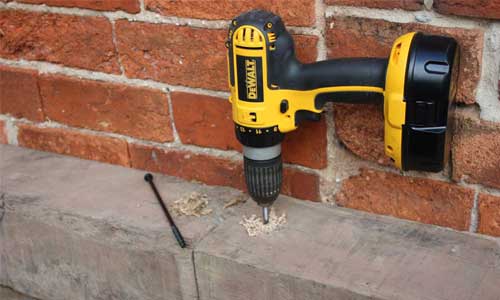 Set the inside of raised bed with a plastic sheet (it is optional). The plastic sheet is mainly used to insulate wet oil and sleepers.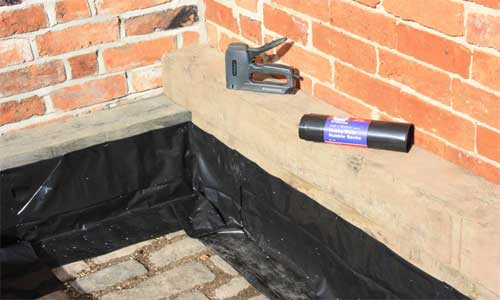 The last thing you should take into consideration is drainage of raised bed. It is suggested to put a layer of rubber or stones at the bottom of raised bed. In order to avoid building a pond, make sure your raised bed has a good drainage system.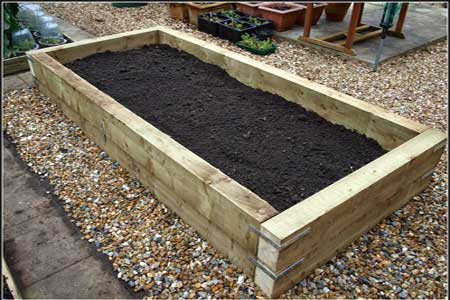 Fill with oil & plants
When the raised bed is ready, fill it with oil and plant you want.
Oil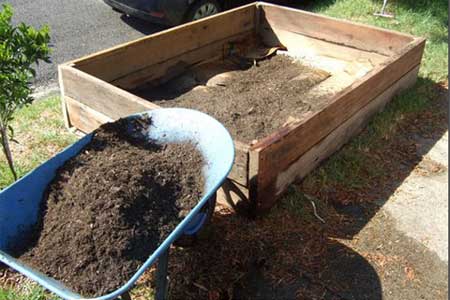 You can choose any type of soil you like. There are some basic rules between soil and plant, for example, soil and acidity will affect the color of flowers. Acid soil is suitable for gardenia, jasmine, camellia and etc. pomegranate and cactus need more alkaline soil. For a new hand, a mix 50 percent green soil and 50 percent compost will be a good choice. Besides, for raised bed is easy to loss nutrient, it is suggested to add the oil in the raised bed regularly, frequency set to no less than one year.
Plants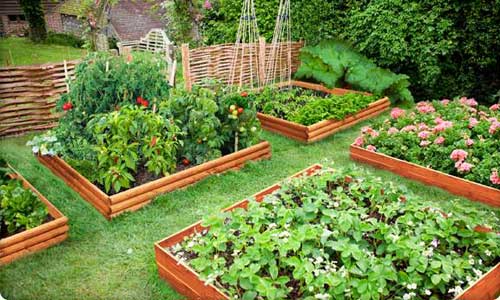 As for the plant you grow, it is advisable to plant vegetables, fruits, flowers, trees and etc. This is totally up to you.
Advantages of raised bed
Building the raised bed with railway sleepers has some advantages.
Make the air clean. The raised bed provides you more place to grow plants, which gives you more fresh air.
Keep in good health. More chances to plant vegetables and fruit by you. As we all known, fresh vegetables and fruit will promote good health and metabolism.
Beautify the yard. A raised bed makes your garden or yard clean and tidy.
In addition to build raised bed, railway sleeper also has more application like we mentioned above. More types of railway sleepers at railway sleepers.