How much do you know about the insulated rail joints ?

This is an informational post, please check the insulated rail joint page if you are searching for the product.
Rail joints, sometimes also called
railway fishplates
, are an important component of rail track system to connect two rail tracks together. In common life, there are three different types of rail joints mostly used:
Boldted joints
Compromise joints
Insulated joints
As a rail joint, the bolted joints are usually used to join rail tracks together before the are welded. As to joining two rails with differing sections, the compromise joints are mostly used. And the insulated joints are always used as the bonded or non-bonded joints. Although the perform of these three types of rail joints is different, they still have many similar features:
Bolts and bars are all used and a discontinuity is created on the running surface of the rail track.
The discontinuity can accelerate track degradation around the rail joints during the trains are running.
Today the world-wide famous insulated rail joints are Bonded insulated rail joints and Polyurethane insulated rail joints.
Bonded insulated rail joints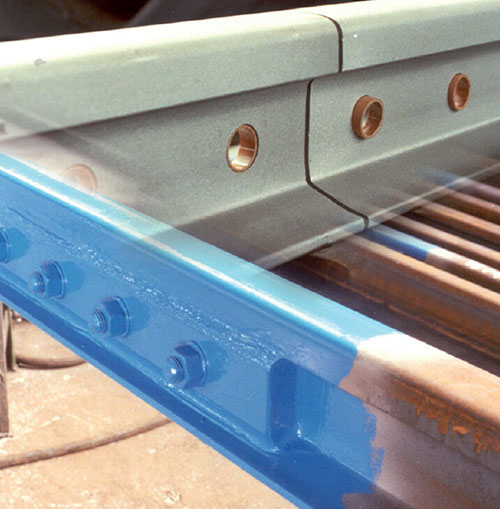 Bonded insulated rail joints are mostly used to separate electric circuits in rails and turnouts. Because of widely used in continuously welded rails(CWR), the bonded insulated joints in rails must be ensured to transfer longitudinal forces arising in the rail tracks. And insulated joints can also cut in square or angular.
The typical features of bonded insulated rail joints
Up to 60' long and ensured the specified length
Mostly used with A-490 bolts or huck pins(6/8)
Conveniently used in worn rail or transition rail configurations
Micro alloy joint bar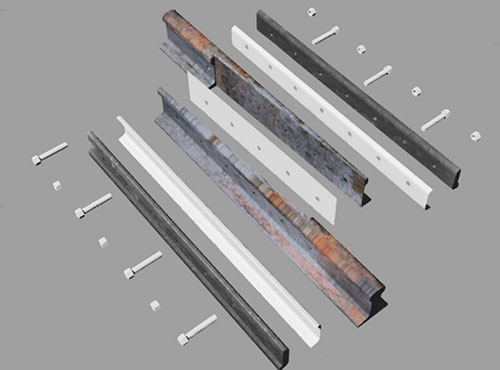 The typical features of bonded insulated joint kits
Available as insulated or non-insulated
4,6 or 8 holes are available
Long life and high performance
Bulk packaging is available
Furnished with high toe clearance designs
Polyurethane insulated rail joints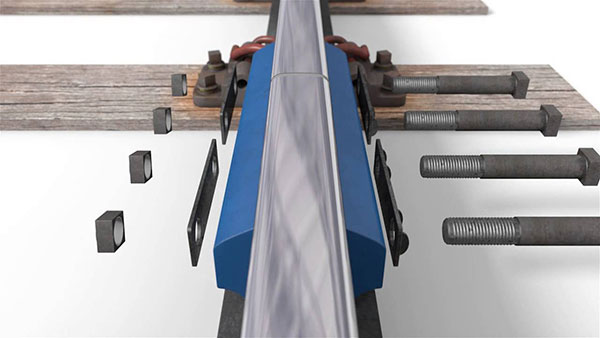 The polyurethane insulated rail joints is featured to a micro alloy joint bar sections. Through ultra-violet, ozone, weathering abrasion, or the shock and flexing stresses of heavy rail traffic, it is a specially formulated compound. And the dense polyurethane material bonded to the rail joints can provide superior insulation between the rail tracks and the joints. Then they finally lead to a firmly structure which can provide high-dielectric isolation for signal circuits. With the special design, the structure can provide years of heavy duty service and require little or no maintenance.
The typical features of polyurethane insulated rail joints
Simple to install
The process that the bolt hole insulated bushings into each insulated joint bar is in our factory, which can save a lot of time and increase working efficiency of rail track maintenance personnel when installing the joint on rail tracks.
The unique design also reduce the additional inventories of bolt hole bushings which our customers need to carry in the past. Finally, each insulated joint kit should be packaged together to simplify the storage and inventory.
Minimum cold flow
Because of the insulated rail joints' bonded-to-steel construction, the joint flexes are added with both vertical and horizontal stress. The tough molded NEMA Grade G-10 end post provides wear-resistant easement between rail ends and will not cold-flow under high temperature.
Recessed design
The product can accommodate much special requests, such as making toeless joints, making double insulated joints and adjusting flange clearance for extraordinary rail wear etc. As to reliable circuit isolation, quick delivery, easy installation and lowest long-term cost are all available.