Typical railroad fasteners overview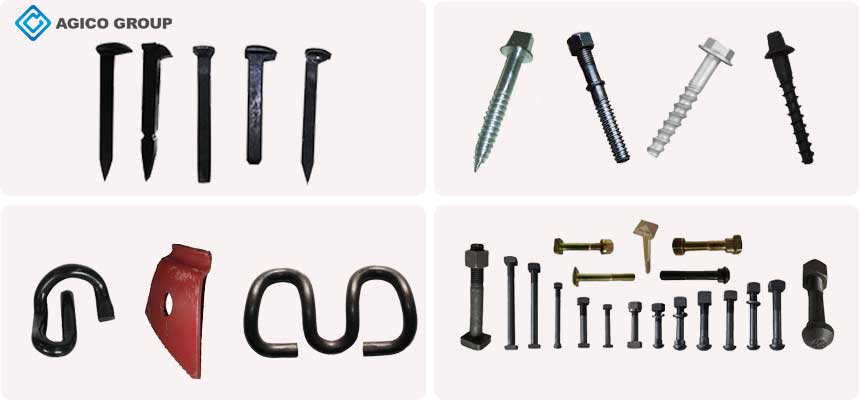 In the railway track system, there are some components for fastening steel rail to railroad ties, which called railroad fasteners or railway fasteners. Typical railroad fasteners include railroad spikes, rail clips, railroad track bolt and nuts, and so on. All railroad fasteners work together for a goal that maintains the track in gauge. These common railroad fasteners have their own features in every aspect. As a leading supplier in the railway materials, AGICO Rail introduces typical rail fasteners from raw materials, standards, sizes and etc.
Railroad spikes
Railroad spikes is used to secure rail to railway sleepers, common types of railroad spike include dog spikes and screw spikes. There are some difference in function, shape, standard and other ways between dog spike and screw spikes.
Dog spike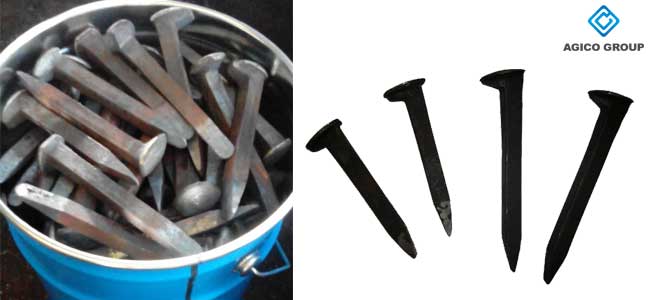 Dog spike is mostly used in fixing rail to wooden sleepers. Dog spike is composed of nail rod and pointed penetrating head, its head has two lugs on either side, so that why it is called "dog spike". The ordinary sizes of railroad spike include 5/8"*6" and the 9/16"*5-1/2". As we all know, dog spike is generally made of carbon steel, including 40Cr steel, Q235 carbon steel, 35CrMoA steel 45# (GB standard) carbon steel, 20MnTiB and etc. For standards, GB, ISO, BS, JIS, DIN ASTM and other international standards are so usual. In general, surface of railroad spike can be treated by Plain Oiled, Oxygen Black, Zinc Plated, HDG, etc. Specific details about AGICO Rail's dog spikes as following:
Hot Sizes: 5/8*6 '', 9/16*5-1/2 '', 3/8''*3-1/2 '', 1/2*3-1/2, and etc.
Standards: various international standards. Non-standards are available with drawing or sample.
Surface: can be customized by customer requirements.
Screw spike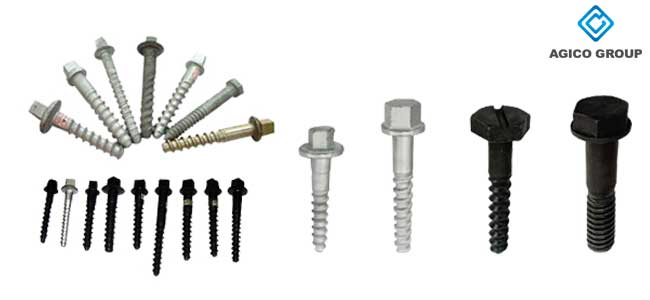 Compared to dog spike, Screw spike has threaded rod and flat head. Screw spike is mainly different from dog spike in function. Firstly, screw spike can be used fasten wooden sleeper. Secondly, screw spike is used with plastic dowel for rail fastening system. Thirdly, screw spike can be casted in concrete sleepers before laying. Generally, Materials, surface treatment and standards of screw spike are same as dog spike. Based on the different applications, screw spike can be classified into 4 typical types: Ss series Sleeper Screw, Hexagon screw spike, Double-head screw spike and Square head screw spike.
Hot sizes: Ss 1/130, Ss 1/150, Ss 2/180, Ss 5/150, Ss 6/150, Ss 7/180, Ss 8/140, Ss 8/150
Rail clips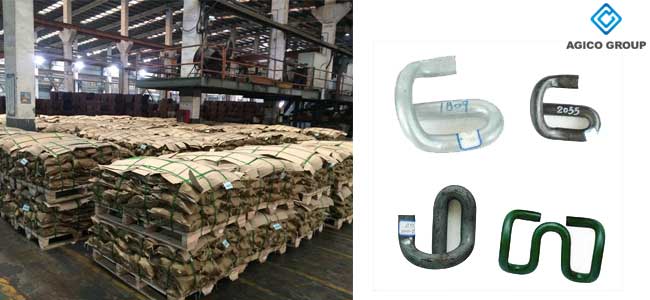 Rail clips, also called elastic rail clips, are used to connect steel rail and railway sleepers. As a basic part of rail fastening system, rail clip has a lot of types, such as E-type rail clip, SKL rail clip, Nabla rail clip, KPO rail clip and other non-standards clips. Commonly, rail clips is made of spring steel. As for the standards for rail clips, including BS, JIS, UIC, DIN, ISCR, GB and other international standards. Besides, AGICO Rail can process customized rail clips by samples or drawings, and the surface treatment for clips include oiled, natural, or upon customer requirements.
Hot Sizes: E1809, E1813, E2001, E2055, SKL 12, SKL 14, Russia Rail Clip, Deenik Clip, and etc.
Rail bolt and nuts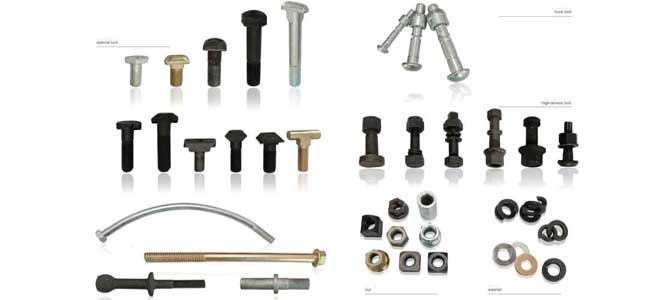 Railroad track bolt and nuts are two components for joining steel rails. Generally, rail bolts and nuts are made of carbon steel. Rail bolt has some typical types like fish bolt, clip bolt, high strength bolt, and etc. rail nuts have square head and hex head types. AGICO Rail can supply any sizes railroad track bolt and rail nuts.
Hot sizes: Button head oval neck track bolt, Rail bolt NF F50-008, Fish bolt, Clip bolt HS26 & HS32, Anchor bolt, Hex head, Square head, Flange head.
All in all, railroad spikes, rail clips, rail bolts and nuts protect the rail safety together. Besides that, AGICO rail can provide many other railroad fasteners like tie plate, rail pad, plastic dowel, rail anchor and so on. All these fasteners can be customized as your needs, and fast delivery and free sample are always available.