5 common railway components for track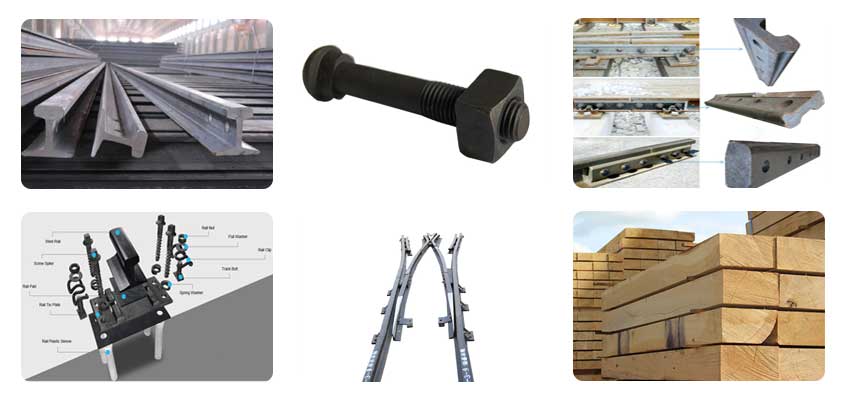 This is an informational post, please check the rail components page if you are searching for the product.
Railway track components means the components for the railway track. As the necessary parts of rail track, railway components also called rail track parts. All railway track components play different roles in the railway track. Railway track components give the foundation of whole railway track system like steel rail and railway sleeper. Besides, rail components also ensure the railway safety by fixing rails and railway sleepers, such as railway fastening system, railway fish plate and fish bolt. As a manufacturer that is specialized in making rail products over 20 years, AGICO Rail sum a list of common railway track components, including steel rail, railway sleeper, turnout, rail fastening system and railway fish plate.
Steel rail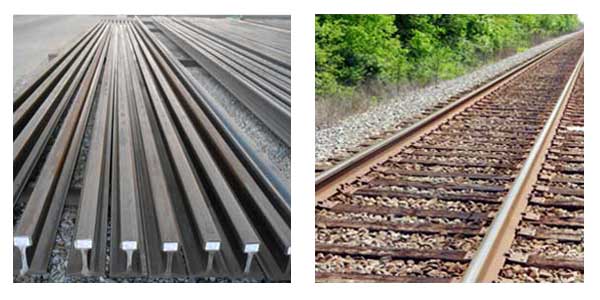 As the main part of railway track, steel rail always act as two parallel lines. In general, steel rail is used to provide a surface for train and guide the train forward. Steel rail also transmit the pressure from locomotive to railway sleepers. According to the kilos per meter, steel rail normally include light rail, heavy rail and crane rail. For different markets, steel rail can be classified into many standards, such as GB, UIC, DIN, ASTM, AREMA, As 1085, BS11-1985, JIS E1103-93/JIS E1101-93, ISCR, ISCOR standard, etc.
Railway sleeper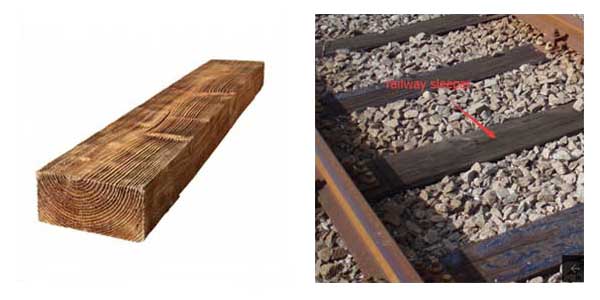 Railway sleeper, also known as railroad tie, cross tie, is laid perpendicular to steel rail. Railway sleeper can be properly deformed to trimmer pressure when the train passes through, after that, cover as much as possible. By the raw materials, railway sleeper generally can be divided into three types: wooden sleeper, steel sleeper and concrete sleeper. The main function of railway sleeper as follow:
Railway sleeper give firm and even support to rail.
Railway sleeper should have certain flexibility and elasticity. Act as elastic medium between rail and ballast.
Railway sleeper absorb the vibrations from locomotive and transport the load from rail to ballast.
Railway sleeper align the rails and keep the right rail gauge.
Railway fish plate and fish bolt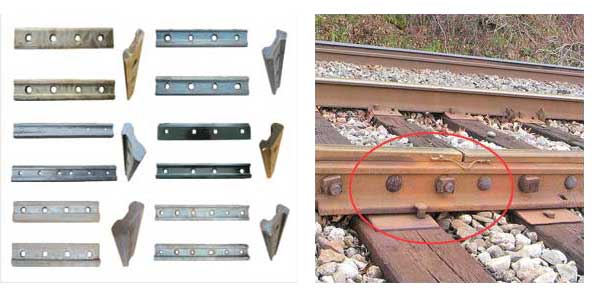 Railway fish plate, also called rail joint, splice bar or joint bar, is a metal bar that is used to the connect end of two rails by fish bolts. As the connection part between two rails, railway fish plate is used in combination with the steel rail. According to the steel rail standard, railway fish plate has three types:
Railway fish plate for light rail: 8kg, 9kg, 12kg, 15kg, 18kg, 22kg, 24kg and 30kg
Railway fish plate for heavy rail: 38kg, 43kg, 50kg and 60kg
Railway fish plate for crane rail: QU70, QU80, QU100 and QU120
According to the national standards, there are some typical rail joints that are applied to different markets, including American Australian, Canadian, DIN, BS, UIC, African standard, and so on.
Rail fastening system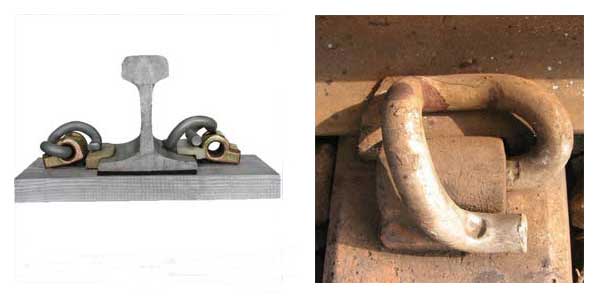 Rail fastening system refers to a group of railway fasteners that are used to fasten steel rail to railway sleeper. Common components of rail fastening system include rail clip, railroad spike, rail bolt, rail tie plate, rail pad, washer, plastic dowel, rail insulator and rail shoulder, etc.
The main function of rail fastening system is preventing steel rail from lateral and horizontal movement. Besides that, rail fastening system also can absorb and transfer the pressure from locomotive to railway sleeper. In a word, rail fastening system ensures the rail in gauge and protects rail safety. Rail fastening system has a lot of types that is composed of different fasteners. Typical rail fastening system includes SKL, KPO, E-type, NABLA, and etc.
Railway switch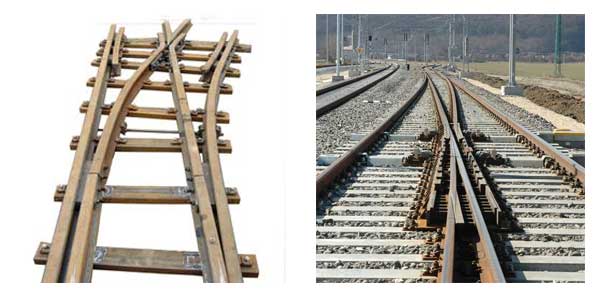 Railway switch is a special component of railway track, which is applied in the railway crossing. Railway switch has another name-turnout. Railway switch is simply a rail component for converting track. Railway switch increase the trafficability of railroad track, and it is important to transport safety and efficiency.
All these railway track components work together, which keep the railway safety and reliability. Besides, there are many other railway track parts do the same thing like them, such as rail anchor, rail clamp, etc. As a professional rail components manufacturer, AGICO Rail can custom any component parts of railway track with national standards. Free sample and fast shipping are available.