Service
Current Market position
AGICO Rail mainly is dedicated in development and production of railway track fasteners and related railway materials. Till today, its production bases' comprehensive competition ranks No. 1 in manufacturing railway materials in China. It owns a history dated back to 50 years ago starting to enter into the line of railway fastener production, and now is an appointed production base by Ministry of Railways of People's Republic of China. We owns production bases respectively for railway fishplates (rail joint), rail clips, railroad spikes, rail bolts, tie plates, plastic and rubber products and others. we also keep long term partnership with a few other domestic partners who produce other railway products beyond our catalogues, so we can work out best solutions on whole set of railway fasteners to clients based on best technology, best quality, fastest delivery, but lowest price.
Railway Product Manufacture Facility Overview
The company owns a working staff of over 400 persons, including more than 40 experienced technicians for different kinds of products; total square for production bases is over 100,000sqm: at each production base, production lines are available depending on advanced technology to realize mass production capacity reaching up to over 30, 000 tons annually , and ensure delivery approaching end users in shortest time to save time and cost for each client; besides, full sets of chemical and physical inspection facilities are equipped well to strictly guarantee the product quality. What's more, AGICO passed the CRCC certification of the Railway Ministry and won ISO9001 certificate of international quality management system, enhancing the development strategy for the company's long term and global market approach.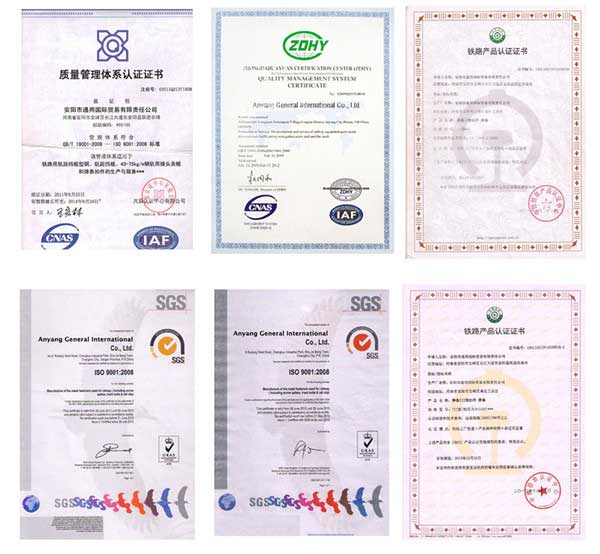 Quality Control
To ensure the perfect product quality, a professional quality inspection team is formed by following strictly quality inspection principles and rules. Quality is guaranteed by entirely control measures through self-checking, special-checking, mutual-checking, sampling-inspection through the production process for the just product, from beginning to end. In addition, all raw materials are asked to be purchased from certified supplier at competitive price, and finished products from the production line also need to be inspected on special inspection instruments to get rid of any tiny imperfection and ensure 100% satisfying products for all users.
Below is a route chart of quality control from AGICO, you can see clearly what we do with strict inspection mechanism to control the product quality: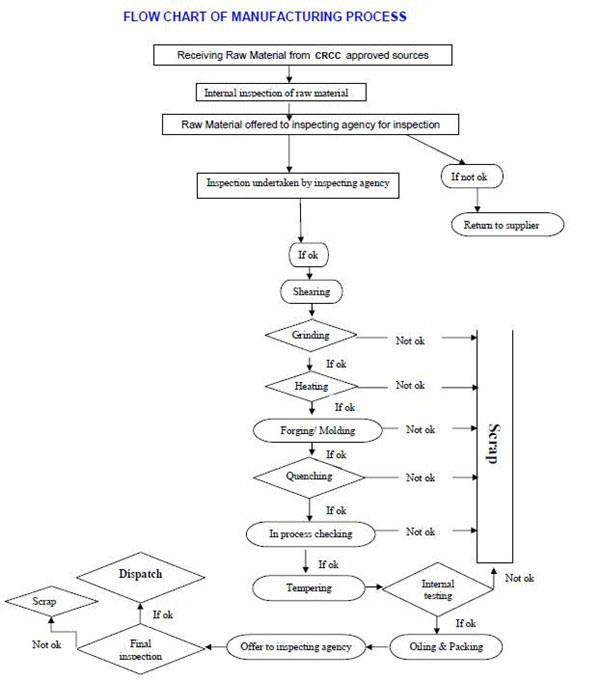 Thanks to some national related agencies' support and assistance, our newly developed products can be praised, acknowledged and protected. The 3# and 13# rail clamps available for large gauge adjustment have achieved national patents. Our operation and product quality gets approval from National Certification Metallurgical Laboratory, Railway Science Research Institute, regional Technical supervision bureau and inspection & test center, so that various product technical data, requirements and results are available at any time upon customer requests. We also have established long term cooperation with dozens of China railway corporations to supply railway fastener parts for their contracted projects both at home and abroad, thanks to our previous 100% execution following the agreements and 100% efficient service oriented at Quality control and cost saving for each customer.
Convenient Shipment Service
For delivery, due to frequent orders, AGICO has signed favorable long term agreements with some ship companies and logistic companies. Therefore, we promise to ship products to any required main port in China for free, even to a few main international ports.
FREE Sampling Service
Besides, to perfectly match customer requirements, we can supply free sample products before any order placed to us, based on dozens of product samples available, which are ready for mass production with moulds developed already.