Best railroad spikes for sale – AGICO RAIL
AGICO RAIL, a world-wide professional and activated manufacturer and supplier of railway products, such as railway fishplate,
railway fastening system
and other railway parts for railway transportation, including elastic rail clip, rubber rail pad, rail iron plate, rail clamp, rail spike, rail insulator, rail bolt, rail washer, rail nuts, etc. These products are mostly used in the various fastening systems, including high speed fastening system, subway fastening system and normal fastening system. Besides, the sincere dedication and hard working of our team has been highly praised. Being a partner of CRCC (China Railway Construction Corporation), AGICO RAIL is strict to make its railway products accordance the ISO9000:2008 quality management. What's more, the products of AGICO RAIL has been widely exported to a variety of countries worldwide, such as America, Canada, Russia, Australia, Japan, Argentina, Brazil, Portugal, Italy, Greece, Indonesia, Vietnam, Kenya, Zambia, South Africa, Chile, etc. Among the all products, the railroad spike is the major product of AGICO RAIL.
The mainly railroad types of AGICO railroad spikes
Ss series sleeper screws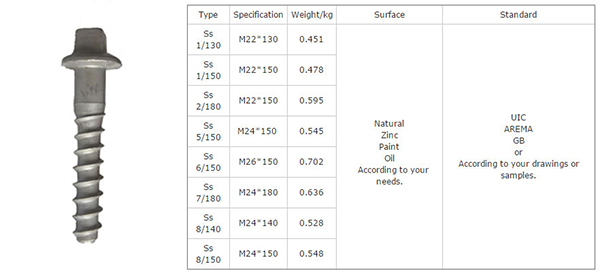 Square head screw spike


Hexagon screw spike


Double-head screw spike


Dog Spikes